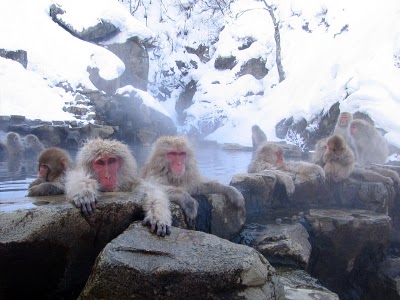 It's a classic photo that most everyone has seen:  monkeys relaxing in a steaming pool amongst snow-covered ground.  Despite yourself, you sigh, and you become the slightest bit jealous.  But fear not – you too can be as happy as a monkey right here in Colorado when you plan your mountain getaway at your favorite Rocky Mountain inn!
Hot springs are created when groundwater, heated from within the earth, emerges onto the surface.  Volcanic areas often have superheated water that erupts in the form of geysers.  However hot springs in non-volcanic areas like Colorado are heated when water comes into contact with hot rocks within the earth's mantle, creating warm-to-hot pools of water very comfortable for use, no matter what time of year!
The lore of hot springs is known the world-over.  Native Americans have always thought hot springs to be natural spots full of spiritual power and used them for healing, purification, sacred rites, and meeting places. Even today, many believe that these pools have therapeutic properties, thanks to the ability of the heated water to hold minerals.  Everything from calcium to lithium and even radium can be found in these warm bodies of water.  Although unsupported by science, many believe that these mineral-rich waters prove both physical and spiritual healing.
One thing is for sure – unless you're in trouble, it is very nice to find yourself in hot water!  While the mineral healing may not be scientifically proven, your aching muscles know how nice it is to be warm!  A simple soak in hot water can provide relaxation otherwise unavailable.  Why do you think hot tubs are so popular?  Of course, steam is also good for the sinuses and for deep breathing techniques.  Being submerged in water also helps ease movement, and being submerged in hot water eases joint pain associated with daily stresses on the body.  Put all these together, and hot springs are a big draw for both relaxation and overall well-being.
Colorado boasts several hot springs, both in natural settings, and in use by spas or communities.  Whether you choose to visit hot springs for pampering or recreation, you will certainly come away feeling relaxed, refreshed, and warm to the core!
Please be aware: 
Most springs found in wilderness settings are clothing-optional.
Fahrenheit temperatures given are in averages, and are prone to change seasonally.
Non-wilderness locations open to the public have an admission/usage fee.
Great Hot Springs in Colorado
Alamosa – Splashland Hot Springs:  A family-friendly geothermal swimming pool that is open seasonally.  Concession stand onsite.
Alamosa – Valley View Hot Springs:  Operated by the Orient Land Trust, this clothing-optional site is a mini-paradise containing several swimming pool 'ponds'.  Temperatures range from 95 degrees and up.
Aspen – Conundrum Hot Springs:  Natural Site.  A nice welcome after a long 9-mile (one-way) trek to this gorgeous wilderness location.  Water averages 102 degrees.
Boulder – Eldorado Springs:  A bottled water business that houses a family-friendly swimming pool.
Buena Vista – Cottonwood Hot Springs Spa:  An old-west style gravity-fed mineral spa with several pools, creekside tubs, and a dry sauna.  Swimsuits required.
Buena Vista – Mt. Princeton Hot Springs:  Five swimming pools averaging 95 degrees, a 400-foot waterslide, and a soaking pool.  Exercise classes also offered.
Carbondale – Penny Hot Springs:  Natural Site.  Just park along the road past Carbondale and hike down to the river to enjoy this beautiful location.  Clothing required.
Florence – Desert Reef Beach Club:  Although family-friendly, this location IS clothing-optional.  Fridays are SUIT ONLY days for those families who do not care to see more than usual.  Water temperature ranges from 94-102 degrees, depending on time of year.  Pool use is limited to 60 patrons.
Glenwood Springs – Glenwood Hot Springs:  Two family-friendly swimming pools.  The main pool is kept at 90 degrees, and the Therapy Pool is kept at 104 degrees.  A mini-golf course is onsite for when you need a break from swimming.
Glenwood Springs – Yampah Spa and Vapor Caves:  Natural underground steam baths with full spa amenities.
Granby – Hot Sulphur Springs Spa:  Offering 21 mineral pools (both outdoor public and indoor private) with temperatures ranging from 95-112 degrees.
Idaho Springs – Indian Hot Springs Spa:  Features a 90-degree swimming pool, geothermal cave baths, and private outdoor jacuzzi tubs.
Moffat – Joyful Journey Hot Springs Spa:  Featuring mineral spring pools kept between 98-108 degrees and full spa amenities and treatment options.
Ouray – Ouray Hot Springs Pool:  Family-friendly pool with slides and diving boards.  Temperatures range from 96 to 106 degrees.
Pagosa Springs – Rainbow Hot Springs:  Natural Site.  A 4-mile hike ends at a small pool in a wilderness location beside the San Juan River.  Jump into the river to cool off from the 103-degree waters.
Penrose – The Well at Brush Creek Spa:  This swimsuit-optional free-form pool averages 95-degree water and is between three and five feet deep.  No radios allowed.
Ridgeway – Orvis Hot Springs Spa:  Nude and clothing-optional spa with box-canyon vistas.  Five soaking pools (including a smoker's pool) and two private tubs.
Salida – Salida Hot Springs Pool:  Three community pools featuring waters piped in from Poncha Springs, averaging 95-100 degrees.  Six secluded soaking tubs can be rented by the hour.
Steamboat Springs – Strawberry Park Hot Springs:  Family-friendly during the day, and clothing-optional at night, this location features stone pools surrounded by forest.  Temperatures range upwards of 102 degrees.
Plan your Colorado bed and breakfast getaway and spend some time at area hot springs and hot spring-fed attractions.  Between the therapeutic effects of the hot springs and our warm and welcoming inn atmospheres, we bet that you'll have one of the most relaxing vacations of your life!