Order Our Cookbook
One of the joys of staying at a bed and breakfast is savoring the wonderful recipes prepared by innkeepers who take pride in our great hospitality, superior accommodations, and especially our delicious breakfasts! As a sampling from our member B&B inns, our "Colorado Culinary Inn-Spirations" cookbook lets you to savor the flavor of Colorado bed and breakfasts right in your own home.
Now in its fourth edition, this unique cookbook features recipes that range from family traditions to our "inn-house" specialties. You'll be tempted with everything from Easy Spring Frittata to Rocky Mountain Rocky Road, Bacon Cheese Quiche to Pear Coffee Cake. You'll be so tempted from our culinary crafts that you'll want to travel around the state just to experience these recipes first-hand: lovingly prepared just for you by a friendly innkeeper. A few of these recipes may include local ingredients, encouraging guests to return time and again just to keep a pleasant memory of the region.
These delicious and simple recipes with gourmet flair have been kitchen-tested by our BBIC member innkeepers and taste tested by our inn guests. Each is sure to please your own guests at home for brunch or breakfast.
Colorado Culinary Inn-Spirations offers a chance to visit our Bed and Breakfast Innkeepers of Colorado member inns by enjoying the epicurean delights of our treasured Colorado B&Bs right in your own home. Detailed information of each inn featured is also included in the pages.
Enjoy your Culinary experience by ordering your cookbook today!
SPECIAL PRICING: $15.00 (includes sales tax and shipping to all US states)  Send check to:

Bed & Breakfast Innkeepers of Colorado Cookbook
PO Box 38416
Colorado Springs, CO 80937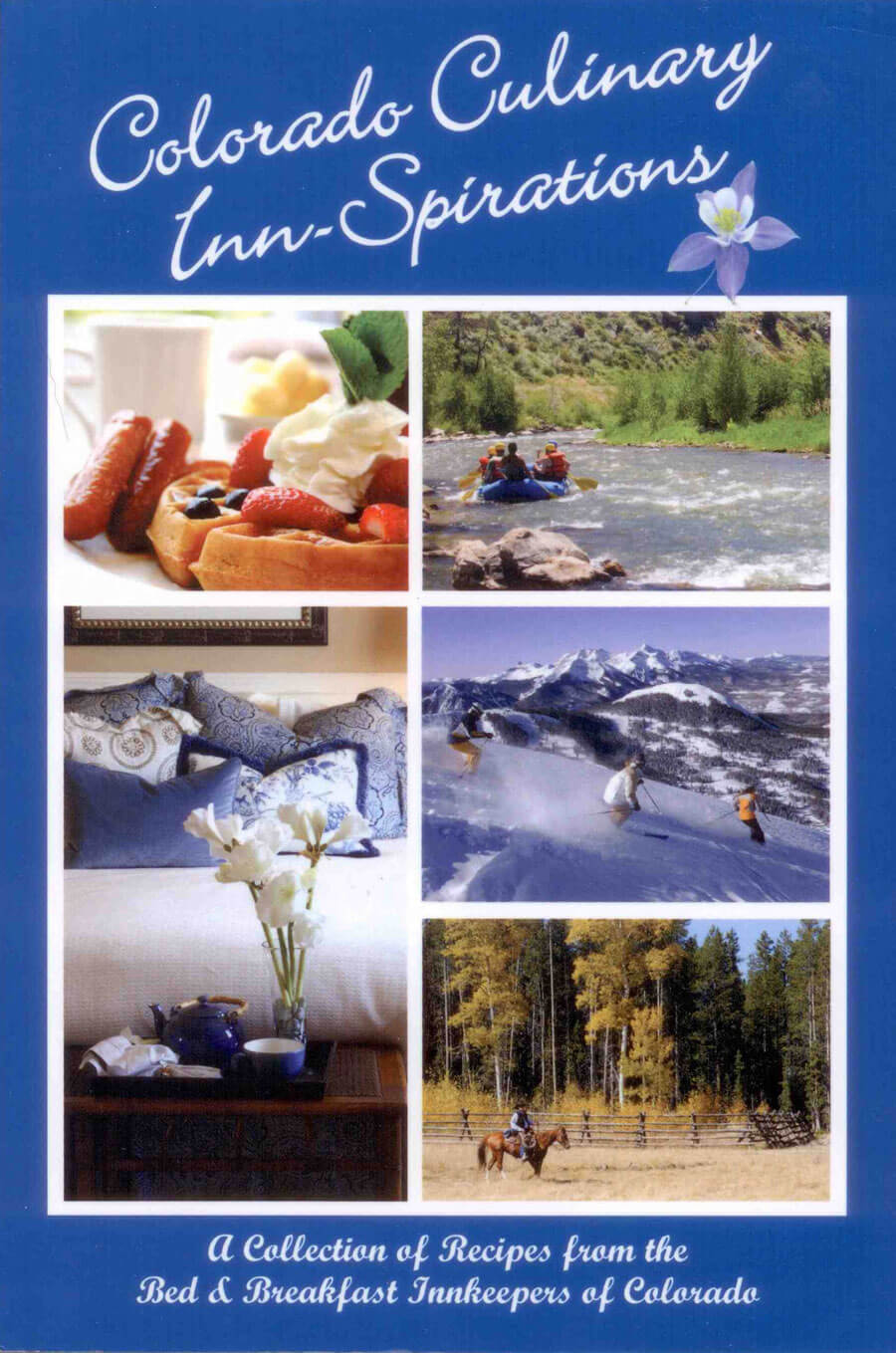 Get Your Free Colorado Bed and Breakfast Directory
Subscribe to our "Colorado Travel Inn-Sights" e-newsletter to discover everything Colorado has to offer and receive our free State Guide which includes a Full Bed and Breakfast Innkeepers of Colorado Member Inn Directory!
Use this handy bed and breakfast guide when planning to travel in Colorado for business or pleasure. "Rest at the Best Colorado has to offer" when staying in one of our bed and breakfast inns.
Our "Colorado Travel Inn-Sights" e-newsletter offers information on events, inn specials, area activity highlights and fun information on affiliates. You may find recipes, specific activity suggestions and information and seasonal highlights.
The Bed and Breakfast Innkeepers of Colorado offer a Bed and Breakfast experience you won't want to miss – sign up for our newsletters now and your Bed and Breakfast Innkeepers of Colorado Directory will be sent immediately.
CLICK HERE to view our ENewsletter Archives