In the late 1700's, residents of Colonial America finally started to move west.  When we think of the migration of these early settlers, a typical picture comes to mind:  covered wagons pulled by horses, accompanied by riders astride horses to guard against danger.  Sure-footed and strong, horses could handle the task of bringing settlers and their belongings to the early American west, and were able to easily navigate over rough terrain.  And just imagine the first glimpse of the Rocky Mountains from the back of a horse!  Not to mention the rough trip through the Continental Divide to continue further west from what is now Colorado.
Even today, there is nothing quite like seeing the breathtaking beauty and grandeur of the Centennial State on horseback.  Whether exploring commonly visited areas, or venturing to places unattainable by car or bike, horseback riding is a favorite pastime of locals and visitors alike.  Why not plan an equestrian adventure during your Colorado bed and breakfast getaway?
Autumn is on the horizon, and is the perfect time to see Colorado by horseback!  Crisp air, beautiful fall foliage mixed among the evergreens, and sun shining for at least part of almost every day makes for an unforgettable riding experience.  From the back of a horse, you can see hidden vistas, easily ascend foothills, and explore miles of our state's plains and grasslands while feeling that you're part of something so much bigger than yourself.  Most outfitters offer rides geared to every level of expertise, from "greenhorn" to experienced.
Northeast Region
North Sterling State Park offers a 3.5 mile trail on the South Shoreline for those bringing their own horses to the state.  The trail follows the shoreline at the edge of the grasslands and offers views of the lake, and a relaxing ride.
Southeast Region
Vogel Canyon near La Junta offers four trails through sandstone formations and shortgrass prairie ranging in length from 1-3 miles.
Castlewood Canyon State Park in Franktown currently offers just one 1-mile trail for horseback riding, however additional trails should be completed in the near future.  This small canyon holds Cherry Creek, and offers a more rocky environment.  This park is home to several raptor species, so keep an eye out as you ride!
Front Range Region
Roosevelt National Forest and the Poudre Canyon offers riding along streams through aspen and pine trees and into the hills.  Beaver Meadows Stables offers trips in this area.
The area west of Fort Collins features both flatland riding, and climbs into the rocky foothills for amazing views!  Try Tip Top Ranch for 1-2 hour rides.
Estes Park surrounds you with blue skies, amazing views, and fresh air.  Estes Park Outfitters guides tours near the northeast side of Rocky Mountain National Park.
Idaho Springs offers the Arapaho Forest, mountain views, and beautiful surroundings.  You can also take some more interesting rides:  A&A Stables offers an 1800s graveyard ride, a Full Moon Ride, and Gambling rides to Central City, along with more standard options.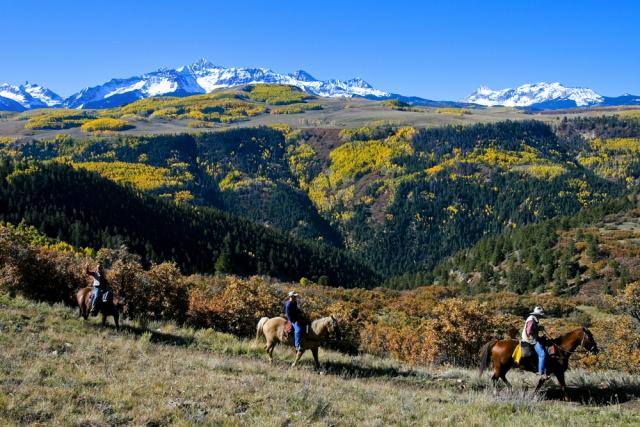 South Central Region
Northwest Region
Southwest Region
While this partial list of locations and outfitters may give you an idea of what you can find, this is far from comprehensive!  Your innkeepers will have information on additional outfitters and ride locations in the immediate area.  Riding adventures are available in every part of our state, making it easy to incorporate into any area vacation.  Most outfitters are open throughout the year, so whenever you travel to your favorite Colorado inn, chances are good that you can enjoy some time exploring our state on horseback.  As always, your BBIC innkeeper will have your room ready for a fitful night's rest after your horseback adventures!