With our beautiful views and ample space, Colorado is an amazing place for outdoor activities.  Many people think of our state as a great place for winter activities with the mountains and the snow.  However, The Centennial State is a great place to bring a bicycle in the summer!  Whether you're interested in racing, sporting, or just getting around, you can't beat the natural beauty, crisp air, and sunny atmosphere for bicycling.  Member inns of the Bed and Breakfast Innkeepers of Colorado welcome you to the many bicycling opportunities in the state!
Biking as Transportation
With Colorado becoming such an Eco-friendly state, it's no big surprise that larger residential areas are embracing bicycles as a means of transportation.  In fact, Bicycling Magazine ranked three cities in the Top 20 US Cities for Bicycling:  Boulder (#3), Denver (#12), and Colorado Springs (#18)!  Denver also has a program that allows residents to use public bikes for short trips inside the city:  members can pick up a bike at an approved location and drop it off within 30 minutes for no charge!  If you come to the state with bike in-tow, there are many, many communities that offer bike paths throughout their city.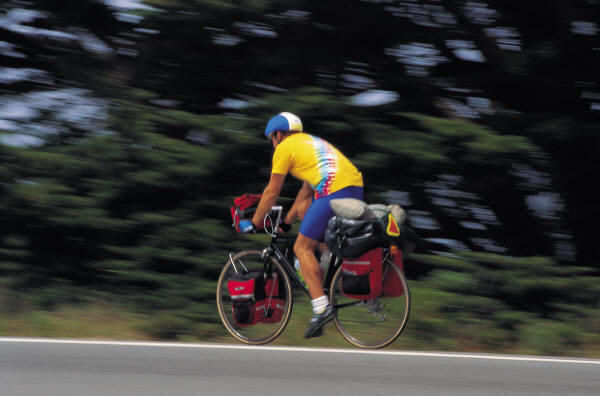 Biking for Sightseeing
Many states in the US are turning old railroad tracks into public bike trails, and Colorado is no exception.  There are about twenty Rails-to-Trails locations in the state for picturesque biking opportunities.
Biking for Sport
All seven National Forests, Parks, and Recreational Areas are somewhat biker-friendly on roads.  All also offer bikeable offroad trails for recreation and sport.
Even outside of the Nationally-hosted areas, many towns have their own off-roading options.  Canyonlands, foothills, and state parks offer riding of all types from fairly flat to mountainous and everything in-between.
Keeping true to its recreational prowess, Boulder is now home to the Valmont Bikepark.  Located on a 132 tract of park land, this park was developed as a safe area to allow riders to enjoy recreational riding and develop offroad skills.  Containing a Terrain Park with three difficulty levels, Cyclocross areas, trails, a learning loop, and kids' areas, this park is a one-of-a-kind gem that should be on every offroader's to-do list!
Biking as Competition
Colorado is home to many cycling events throughout the summer months that draw cyclists of all skill levels, and spectators numbering into the millions total.  Below are a few of the larger events in our state.
August 20-26, 2012:  The USA Pro Cycling Challenge might be compared to a mini Tour de France.  135 professional riders from around the world descend on Colorado to race over 500 miles through the Rockies, with over 1 million spectators on-hand to watch!  The 2012 course has the riders racing from Durango to Denver, with 13 cities total as start/stop points.
April 2013:  The Fruita Fat Tire Festival is a multi-day, off road and beer event in Fruita.  Sponsored by New Belgium Brewing, the event has three days of rides, a Women's Camp, and other fun activities.  Check website for 2013 dates and registration.
May 2013:  The Iron Horse Classic is a 50-mile race from Durango to Silverton.  Other race events are also held during the event.  Registration for the 2013 race opens in December.
May 2013:  The Superior Mogul Classic Weekend is a three-day event that includes street sprints, a criterium and circuit road-race on the Morgul-Bismarck Loop, family-friendly events, and live entertainment.  Check website for 2013 registration.
June 2013:  Crested Butte Bike Week is a festival complete with multiple off-road races for all skill levels.  Check website for 2013 dates and registration.
June 2013:  Ride the Rockies takes cyclists on a multi-day ride through the Rocky Mountains.  The route changes each year, but covers 6-7 days of progressive distance.  Check website for 2013 route and registration.
June 23-29, 2013: The Bicycle Tour of Colorado also tours through the Rocky Mountains, starting and ending in Canon City.  2013 Registration is open now!
August 2013:  The Colorado Rocky Mountain Bicycle Tour is a week-long race that begins and ends in Montrose.  A race created by cyclists for cyclists, this race takes riders with a 500 participant cap.  Check website for 2013 dates and registration.
These are just some of the multi-day events in different areas of the state, but there are many, many more!  Although not up-to-date at the date of publishing, the Calendar of Colorado Bicycling Events has active links to most of the notable races around the state.  You can also ask your Colorado innkeeper about local races in their particular area.
Whether you bring your bicycle with you, or rent one once you arrive, Colorado is a great place to tour by bike!  So plan your Colorado inn vacation now to tour the state by bicycle, or for one of our state's premier bicycling events!  Whether you're a rider or a spectator, we are pleased to host you as our guests!