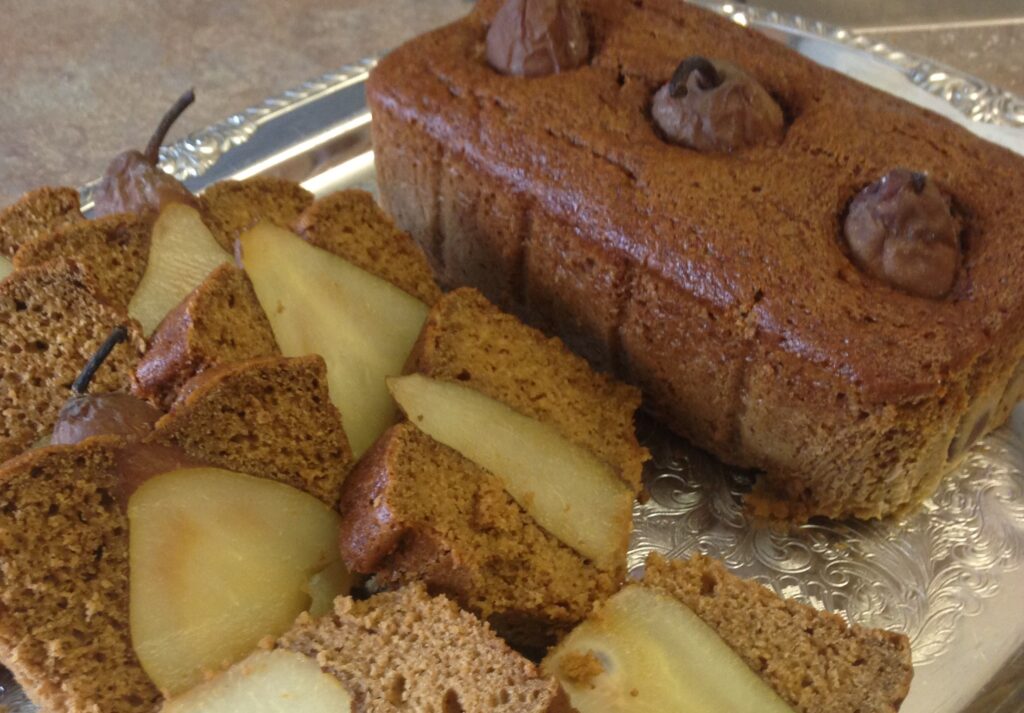 This simple and fun presentation of whole pears baked in quick bread is a real hit!
Ingredients:
Six whole Bosc pears (with stems if possible).
One 14-to-15.5 oz box of quick bread mix. Pumpkin, gingerbread, or cinnamon streusel are best.
Preheat oven to 350 degrees.
Directions: To poach pears, place pears in a saucepan and add enough water to just cover. Remove pears, add 1/2 cup granulated sugar to the pan and bring to a boil (or use leftover white wine or champagne instead of water, no sugar needed). Add the pears, reduce heat to medium, and cook at a medium-low boil for 5 minutes or just until pears just start to soften. Gently remove pears from the pan and cool slightly. Trim a bit of the bottom of each pear to create a flat base. Lightly brush some flour over the bottom 2/3 of each pear to help the batter adhere.
While the pears are cooking, line two loaf pans with foil and spray lightly with cooking spray (foil hack: flip the pan over and mold foil over it, then flip pan upright and put the mold inside…it keeps the corners from breaking).
Prepare quick bread mix according to instructions. Pour 1/2 mixture into each of the loaf pans. Gently press three of the pears into each loaf pan allowing the batter to cover the pears, tops exposed.
Bake at 350° for 50 minutes or until a wooden pick inserted in the bread comes out with slight crumbs clinging. Cool 10 minutes in pans on a wire rack. Remove from pans, cool completely on a wire rack. Peel back foil and slice. Serve plain or with a dusting of confectioners sugar or a drizzle of caramel sauce or whipped cream. Enjoy!