Check out our past issues of Colorado Inn-Spirations!
Subscribe to our Monthly E-newsletter!
Can't travel during February? Give your sweetheart the Gift of Romance with a Certificate for a future date.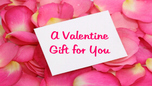 Click on the Valentine to Order!
Order a FREE Colorado B&B State Guide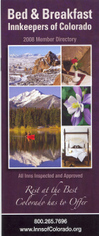 MEET AN AFFILIATE MEMBER

InnMatchmakers.com
- Roxanne Kolbe and Becky Goldsmith are experienced inn brokers in Colorado who have helped many inn buyers and innkeepers realize their dreams. Considered one of the top inn broker teams in the country, each year the duo successfully brokers a number of speciality hospitality properties.

Interested in becoming a BBIC Aspiring, Affiliate or B&B Full Member?
Click here for membership information
or
Email
our Membership Chair!
Deadline for Inn Membership Applications to be included in the 2009 State Guide is Feb. 1st!
Join us on Sunday-Monday November 8-9 for the 2009 Annual BBIC Conference and Aspiring Innkeeper workshop. Check back for details...


Volume 2 Issue 1 2009

There's no time like the present to plan your winter escape and add a spark of romance to your getaway... whether you prefer an historic Victorian, a cozy cottage, a stately castle or a modern mansion, our Bed & Breakfast Innkeepers of Colorado (BBIC) member inns will offer pleasant memories to satisfy even the most discriminating sweet-tooth.
Special offers, some with hearts and flowers, and friendly innkeepers are waiting patiently to help you plan your Valentine trip or ski vacation for a winter wonderland of fun. Whether traveling with your loved one, on business or with your family, a Colorado B&B is waiting for you.
This month, check out our special area profiles in Western Colorado including Palisade, Glenwood Springs and Salida.
Our distinct Colorado B&Bs are ready to welcome you with a genuine smile, personalized service, clean and comfortable accommodations and a delicious homecooked breakfast. Savor special delights, prepared by loving innkeepers. This month, try the Sheldon House' Scrumptious Everyday Scones with Holden House' Simply Divine English Clotted Cream for a sweetheart's decadent chocolate delight. It'll be so tantalizing that you'll want to travel to one of our Bed & Breakfast Innkeepers of Colorado member B&Bs just to personally sample our breakfasts inn-style!
Front Range Special Packages
(Denver, Estes Park, Boulder)
Denver, Colorado
Capitol Hill Mansion Bed & Breakfast Inn
(Carl S. Schmidt II)
Email Website
1207 Pennsylvania Street, Denver, CO 80203
Reservations: (800) 839-9329 Local: (303) 839-5221
February Resturant Week - February 21 – 27, 2009. Weather you're dreaming of a getaway on the magic day, or either of the surrounding weekends, let us pamper you and your sweetheart with a intimate three (3) course dinner served by candlelight in the privacy of your room for $52.80 (not including tax and gratuity) per couple. Come and experience the BEST in Denver. A wonderful way to begin your stay!

Cost: $52.80 for two (2) + Tax in addition to the room rate Dates:February 21-27, 2009



Estes Park, Colorado

The Black Dog Inn (Carlos & Sheree Albuquerque) Email Website
Reservations: 866-786-0374 Local-970-586-0374 Valentines Sweethart package -
2 nights stay in one of our Deluxe Suites, a bottle of Champagne, single long-stemmed rose, chocolates, cheese, fruit and cracker tray or wine.
Dates: Febuary 9 -20th 2009
Cost: $375.00 + tax per couple
South Central Special Packages

(Colorado Springs, Breckenridge, Salida, South Fork, Alamosa)
Cascade, Colorado
America's Rocky Mountain Lodge & Cabins (Brian & Debbie Reynolds)
Email Website

4680 Hagerman Ave, Cascade, CO 80809
Reservations: 888-298-0348 Local: 719-684-2521 Plan Ahead for Valentine's and President's Weekend Getaway -
Valentine's Day falls on 3 day President's Day holiday weekend in 2009, the perfect opportunity to whisk your sweetie away and remind them how much they mean to you. Stay with us for 3 nights in any of our facilities at America's Rocky Mountain Lodge & Cabins over the Valentine's Day holiday and receive complimentary roses and chocolate truffles. Consider adding on a massage or romantic dinner as well! Valid February 13-16, 2009 (Friday, Saturday & Sunday nights). Must request special at time of booking.

Dates: February 13-16, 2009
Cost: $375 - $675, depending on room of choice

Eastholme in the Rockies (Deborah Rice)


Email Website
4445 Hagerman Avenue, Cascade, CO 80809
Reservations: 1-800-672-9901 Local: 719-684-9901 Winter Mid Week Special - Visit Eastholme in the Rockies, Sunday through Thursday for two nights and receive the third night 1/2 price in one of our elegant rooms or suites. Featuring jacuzzi tubs, fireplaces and full gourmet breakfast. Guest will awake each morning to a full gourmet breakfast with freshly baked breads, pastries and culinary delights such as delicate souffles and hearty frittatas. Come and enjoy the fresh mountain air on our 40ft front porch and second story balcony with breath taking views of Pikes National Forest. Just 1 1/2 miles to the entrance to Pikes Peak Toll Road. (Excluding holidays or special events)

Dates: through 3/31/09
Cost: 3rd night 1/2 price
Ultimate Affair Wedding Package - The all inclusive "Ultimate Affair Wedding Package" is designed for an intimate mountain setting for up to 50 guests. Exclusive use of the grounds for two days including accommodations for up to 26 guests. Everything you need is all wrapped in one package and all that is needed is the bride and groom.

Dates: All advance bookings through 1/31/09 for a 2009 wedding will receive a $200 discount. Excluding holidays and special events.
Colorado Family Reunion Special - Entire property rentals for your Colorado Family Reunion for advance bookings in 2009 at Eastholme. Bookings received by 1/31/09 are eligible for a 10% discount on your entire stay. Must mention you found us on the BBIC Specials in order to qualify.Valid for all dates excluding holidays and special events.

Dates: Now through January 31, 2009
Cost: 10% Discount on 3 nights - Entire Property Rental
Colorado Springs, Colorado
Black Forest B&B Lodge & Cabins

(Susan Redden)
Email
Website
11170 Black Forest Road, Colorado Springs
CO, 80908 Reservations: 800-809-9901
Local: 719-495-4208
It's as Easy as 1-2-3!! -
AAA-3 Diamond Lodge Log B&B & Cabins is offering 10% discount on 1st night, 20% on 2nd night and 30% on 3rd night of your stay! Mention this ad for your discount.
Dates: through April 30, 2009 (except Holidays)
Cost: 10% - 30% discount on rates from $75 - $375 per night

Holden House 1902 Bed & Breakfast Inn (Sallie Clark)
Email Website


1102 West Pikes Peak Avenue, Colorado Springs, CO 80904
Reservations: 888-565-3980 Local: 719-471-3980 Winter Wonderland Getaway -Reserve 3 nights and receive your 3rd night for 1/2 off or stay 4 nights and receive 4th night absolutely FREE! (valid any days of the week) We'll take a full deposit at reservation leaving the balance due of a perfect stay at check-in! (Some restrictions may apply and full amount of stay due when reservation is booked and non-refundable) Includes our delicious gourmet breakfast, all of our luxury business class amenities and afternoon wine social.
Dates: Through April, 2008
Cost: Stay 3-nights with 3rd night 1/2 price or stay 4-nights with 4th night FREE!
Victorian Valentine in February - No need to book on Valentine's Day, we're celebrating all month long! Stay in any of our gorgeous and romantic suites each with fireplace and tub for two and add on the Victorian Valentine Getaway special for an extra $100. You'll receive fresh roses, French champagne, breakfast served in the privacy of your suite and chocolate covered strawberries. *Special prices may apply to certain dates based on the cost of roses-you'll be notified when your reservation is confirmed. Keep the fires warm on a cool and cozy Winter night...
Dates: February 2009
Cost: $100 extra includes French Champagne & Breakfast ensuite!
Our Hearts Inn Old Colorado City (Pat Fejedelem)


Email Website
2215 West Colorado Avenue, Colorado Springs, CO 80904
Reservations: 800-533-7095 Local: 719-473-8684
2009 Welcome Winter Getaway Packages - Leave the dreary and dark days of winter to come play in Colorado's Sunny days and cold winter nights. Snuggle by a fire at night after enjoying the sunny & warm Colorado days. Gambling, hiking, horseback riding, shopping, museums and entertainment await. Pikes Peak Mountain open year round!

Dates: thru March 2009 (black out periods apply/inquire)
Cost: $90 - $135/night plus tax and enjoy the best rates of the year. Extended stays discounted as well; $500 - $650/week plus tax.
The St. Mary's Inn
(Zeno Nolet)
Email Website
530 North Nevada Avenue, Colorado Springs, CO 80903-1106 Reservations:719-540-2222
20% off as a Thank You for the Top Award - In celebration of receiving the "Top of the Best in The Rockies 2008-2009 Award" by BedandBreakfast.com, we are celebrating with a price mark down, saving 20% on all rooms for the month of January 2009

Dates: thru January 2009
Cost: 20% savings as reflected in the price
February Valentine's Day Special - 2 Nights Romantic Getaway which includes a gourmet breakfast each morning and a 3-course dinner on Valentine's Day, set in a romantic and cozy atmosphere to warm any heart. Stroll through downtown for some entertainment or cuddle up by the fireside? Watch your own favorite movie?
"Memories are made of this"...Three Course Dinner: 1-Soup d'jour, 2-Filet Mignon as only Chef Conchita can cook, with house Salad, 3-Dessert ... for the pleasure of your taste buds and cravings.

Dates: Valentines Day - Saturday February 14th
Cost: Free 3 course Dinner by Chef Conchita Nolet
Manitou Springs, Colorado
Blue Skies Inn (Sally Thurston)

Email Website
402 Manitou Ave., Manitou Springs, CO 80829
Reservations: 800 398-7949 Local: 719 685-3899
Short and Sweet Wedding - Wrapped as a pretty wedding package, imagine a marriage that is stress-free and beautiful. As an innkeeper who is also an artist and gardener, Sally uses her skills to create beautiful weddings. From arranging the floral bouquet to photography to seamlessly co-ordinating the wedding, every detail is treated as Art. That the wedding is gentle on the Planet and economical are just lovely bonuses. Located at the base of Pikes Peak, Blue Skies Inn hosts weddings any day of the year.

Dates: Year round
Cost: $1695 plus two nights' stay at the inn

Two Sisters inn - a bed and breakfast (Sharon Smith & Wendy Goldstein)
Email Website Ten Otoe Place, Manitou Springs, CO 80829
Reservations: 1-800-2-SIS-INN (274-7466) Local: 719-685-9684
Two Sisters Inn Celebrates Mardi Gras in Manitou Springs -February 20 & 21, 2009. "Laissez le bon temps rouler", or "let the good times roll", is the theme of the weekend at the Two Sisters Inn. Arrive Friday evening and after a refreshing night's sleep, get into the spirit with a "BIG EASY" breakfast. Then enjoy the 16th Annual Mumbo Jumbo Gumbo Cook-off in Memorial Park and sample the prize-winning Gumbo--many local restaurants will also be featuring Cajun food all day. Now get ready to revel at the CARNIVALE Parade—we'll even provide the authentic Carnivale throw beads. After another restful night, enjoy a fabulous breakfast and jazz music that will make you feel like you're on Bourbon Street!
Dates: February 20 & 21, 2009 (Two-night stay required)
Cost: $270 - $310 (tax not included) based on double occupancy.
Pikes Peak Resort (Jenn)
Email Website 943 Painted Rocks Road, Woodland Park, CO 80863
Reservations: 888-687-9777 Local: 719-687-9777
Weekender-Mender! Stay Friday and Saturday Night through May 14, 2009 and choose from one of the following free gifts:
1. Two Pikes Peak Resort T-Shirts
2. Bottle of Champagne and Keepsake Flutes(cider available upon request)
3. Chocolate Covered Strawberries
4. Vase of fresh flowers
5. Spa soak set
Dates: through May 14th, 2009
Cost: Must stay Friday and Saturday night to redeem free gift. Must be redeemed at time of reservation.
Salida, Colorado
San Isabel Bed and Breakfast (Dick or Cam Ziminski)

Email Website
15914 CR 260, Salida, CO 81201
Reservations: 866-361-1755 Local: 719-539-5432
Winter Stay and Play - Stay two nights or more and receive 25% off your stay. Two families (well-behaved children are always welcome!) or couples booking the lower level suite for two nights or more also receive the same reduced rate. Discounts available for winter sports and equipment rental.

Dates: thru February 31st, 2009
Cost: Two nights or more stay in one room - $67.50 per night. Lower level suite - $135 per night for two or more nights. (These rates do not include 9.9% applicable taxes.)
North West Specials Packages
(Steamboat Springs, Grand Junction, Vail)
Carbondale, Colorado
Gailyn's Cross Country Bed & Breakfast (Glenn Nemhauser & Wayne Horak)

Email Website
211 Euclid Ave., Carbondale CO 81623
Reservations: 970-963-0537
Weekly Discount Rate - When you pay for 6 nights, the 7th night is free.


Dates: Continuous
Cost: $540/per room assuming occupancy by 2 adults Special Weekly rate discount. When you stay for 6 nights, the 7th night is free.
South West Special Packages
(Gunnison, Ouray, Durango, Pagosa Springs, Paonia)
Pagosa Springs, Colorado
Elkwood Manor Luxury Bed & Breakfast (Darlene Gonzales)
Email Website

85 Easy Street, Pagosa Springs CO 81147
Reservations: 970-264-9166
Lift Ticket & Lodging Discount - Why sacrifice the quality of your lodging experience to get lift ticket discounts? Elkwood Manor is now offering lodging discounts to all skiers. Just show us your lift ticket receipt and Elkwood Manor will take 10% of your lift ticket costs off your entire stay up to $50.00 per visit. Then enjoy our complimentary wine & appetizers or a soak in the Hot Tub under the stars. 2 day minimum stay required.

Dates: Entire Ski Season (through April 2009)
Cost: 10% of your Lift Ticket Cost applied to reduce your lodging expense, based on 2 nights stay up to $50

Eastern Special Packages
(Limon, Burlington, Trinidad, Pueblo, Sterling, Hugo)
Check Back Next Month for New Specials....

Two Colorado Springs' B&Bs received recent accolades. The St. Mary's Inn was recently awarded the "Top of The Best in The Rockies 2008-2009" The "Best of BedandBreakfast.com" awards are based upon a qualitative and quantitative review of the nearly 50,000 independent reviews submitted to BedandBreakfast.com, the leading online B&B directory and reservation network worldwide. "We know how important independent reviews are. We're delighted that inngoers concurred that The St. Mary's Inn is a favorite among those seeking the B&B experience," explained BedandBreakfast.com's Sandy Soule, one of the most highly recognized authors and a spokeswoman for the B&B industry. "It's clear that The St. Mary's Inn earned high marks from inngoers for their fine accommodations, breakfasts, amenities, and wonderful hospitality and service", commented Soule. Holden House 1902 Bed & Breakfast Inn was named a Fodor's Choice 2008 establishment by the leading publisher of guidebooks for American travelers. Each year, an expert team of writers around the world selects an exclusive list of restaurants, hotels, and attractions in their area to represent the best places to vist when traveling to the region and the inn was selected for this honored designation.
*HAVE YOU OR YOUR BBIC MEMBER INN BEEN "INN THE NEWS OR RECEIVED A RECENT AWARD"? If you're a BBIC member and have recently been featured, send us an
Email
and let us know. Your inn will be mentioned in the next issue of Colorado Inn-Spirations enewsletter.
BBIC Member Inns -Send us your recipes and you can be featured here!
A Valentine Chocolate Delight- Scrumptious Everyday Scones
Compliments of The Sheldon House B&B, Fort Collins, Colorado
These scones are delicious and so easy to make!

3 cups all-purpose flour
3 teaspoons baking powder
1/2 teaspoon baking soda
1/2 teaspoon salt
1 cup cold butter
1 egg
1 cup vanilla yogurt
1/2 teaspoon vanilla extract
3/4 cup white chocolate chips
3/4 cup cranberry raisins
2 teaspoons milk
Sugar

In a bowl, combine the flour, baking powder, baking soda and salt; cut in butter until the mixture resembles coarse crumbs. Stir in the egg, yogurt and vanilla just until combined. Add the white chocolate chips and cranberry raisins. Turn onto a floured surface; knead 6-8 times.
Roll into a 9 in. circle; cut into eight wedges. Place on an ungreased baking sheet. Brush tops with milk; sprinkle generously with sugar. Bake at 425 for 15-18 minutes or until golden brown. Serve warm. Serves 8.
Courtesy of Holden House 1902 Bed & Breakfast Inn, Colorado Springs (published in 1989 edition Secrets of Entertaining from America's Best Innkeepers by Gail Greco(out of print)
At Holden House, we discovered this easy clotted cream method years ago, which adds the perfect touch to any scones. The recipe is inexpensive to make and gives an English flair to this traditional afternoon tea recipe.
Simply Divine Clotted Cream
Add 1-1/2 tablespoons of buttermilk to 1 cup of heavy cream. Let it sit out at room temperature, covered for 12 hours and the store in the refigerator for later use.
Colorado B&B Region Profile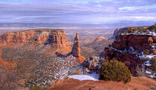 Western Winterland -
Palisade, Glenwood Springs and Salida, Colorado
You don't have to go to the mountains to enjoy a wonderful Colorado vacation. Innkeepers, Bob and Julie Commons at the
Dreamcatcher Bed and Breakfast
in Palisade, Colorado, have everything you need for an adventurous and fun-filled, winter-time vacation. The Grand Mesa is the largest flat-topped mountain the world. Epic conditions for snowmobiling is found with breathtaking views and miles of trails. Powderhorn ski area is 25 min. away and features a vertical drop of 1,650 ft and 1600 skiable acres. The average snowfall is 250 inches. Trails for snowshoeing and cross-country skiing is found on top. Maps can be found from
Grand Junction
Parks and Recreation Department. The Dreamcatcher is offering a room with private bath and a full, hearty breakfast for only $69, first come, first serve.

Lavendar and Thyme Bed & Breakfast
belongs to the exciting
Glenwood Springs
Ski, Swim and Stay program and feel this gives our guests the best of three worlds. Skiing at Sunlight Resort,
Glenwood Hot Springs
and this B&B for your stay presents the best of everything stay. Innkeeper Jan Papp loves Sunlight because of its diversity: Did you know that Sunlight has the largest number of beginner runs, as well as the steepest double black diamond run in the area? "We are very proud that we are able to offer you this year a package which is very family friendly, in terms of possibilities, but also fits in your budget", says Jan. "Wake up in the morning enjoying the flavors and the taste of a freshly cooked 3 - course gourmet breakfast: Ski and have fun with the whole family on the gentle and sunny slopes of
Sunlight
, Glenwood Springs' own ski resort, only about 20 minutes from the B&B; then in the afternoon come back to town and soak in the Hot Springs Pool and complete your stay relaxingly at our Lavender and Thyme B&B in downtown Glenwood Springs. This is a unique package comprising, per person, a ski ticket, a Hot Springs Pool ticket and a warm, comfortable, relaxing room with your own fire-place during your stay. In the evening we serve, hot tea, coffee, hot chocolate, hot apple cider and goodies. We look forward to meeting and greeting you on your visit with us!

Now This is Colorado!!!!!!!!! - Come to the
San Isabel Bed and Breakfast
and enjoy all that the
Arkansas Valley
, Salida and Buena Vista Colorado have to offer. Surrounded by mountain views of Mt Princeton, Shavano and Antero - all 14'ers. Enjoy skiing or snowboarding at
Monarch Ski Area
, snowmobile, snowshoe, visit downtown Salida and see the many art galleries, antique shops or eat at one of our many fine restaurants.