Check out our past issues of Colorado Inn-Spirations!
Subscribe to our Monthly E-newsletter!
WELCOME TO OUR NEW BBIC MEMBER!
Dreamcatcher B&B Palisade, Colorado

Birthday? Anniversary? Special Occasion?

Order a FREE Colorado B&B State Guide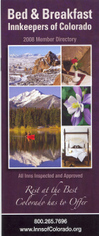 MARK YOUR CALENDAR FOR NOVEMBER 9-10!
The 2008 Colorado Annual Innkeepers Conference and Aspiring Innkeepers Workshop
to be held in scenic Estes Park, Colorado.
for more information...
Product Suppliers,
sponsor
our conference!
MEET AN AFFILIATE MEMBER

Is a premier producer of custom handmade logo stoneware. They are also a family business started in 1972 by Peter and Mary Deneen. Cloth & Clay, Inc. was their name from 1992-2001. Today, they are Deneen Pottery - Same people, same excellent products.
For additional


Volume 1 Issue 6 2008
Imagine...tall Colorado aspen's touched with
gold, yellow, peach and orange. And, while Colorado is known for it's gold rush era, you'll experience a rush of your own when you stroll through a dense forest, take a leisurely horseback ride among mountain pines or high plains grasses, don your hiking boots for a walk on the wild side or take a jeep ride up a 4 wheeldrive trail.
Colorado will also tempt your cultural side. Whether a theatre event, bluegrass festival or art and history museum, you'll find a special place in your heart for our fall season. The aspen leaf colors usually peak in mid-late September and will continue into October with crisp mornings and evenings, and warm sun-drenched afternoons to welcome a break for your Autumn getaway.
You'll truly Fall Inn-Love with our state, but also our distinct B&Bs, ready to welcome you with a friendly smile, personalized service, clean and comfortable accommodations and a delicious homecooked breakfast. Savor special recipes, prepared by loving innkeepers. This month, try the Old Library Inn's Vegetable Fritatta recipe for a taste of autumn harvest. It'll be so tantalizing that you'll want to travel to one of our Bed & Breakfast Innkeepers of Colorado member B&Bs just to sample our breakfasts inn-style!
Front Range Special Packages
(Denver, Estes Park, Boulder)
Estes Park, Colorado

The Black Dog Inn (Carlos & Sheree Albuquerque) Email Website
Reservations: 866-786-0374 Local-970-586-0374 Sweetheart Package includes a bottle of chilled Champagne in room on arrival, single long stem rose for your sweetheart, chocolates, fruit, cheese & cracker tray.
Dates: Sept - October 2008
Cost: $120.00 (not including tax or room cost)
South Central Special Packages

(Colorado Springs, Breckenridge, Salida, South Fork, Alamosa)
Cascade, Colorado
America's Rocky Mountain Lodge & Cabins (Brian & Debbie Reynolds)
Email Website

4680 Hagerman Ave, Cascade, CO 80809
Reservations: 888-298-0348 Local: 719-684-2521
PLAN A COLORADO FAMILY REUNION IN THE ROCKY MOUNTAINS! It's not too late to plan a Family Reunion for this summer, and not to early to start planning a Family Reunion for next summer. We still have some dates left for the summer of 2008. Rocky Mountain Lodge & Cabins can host up to 40 people for family reunions. With location IN the mountains at Pikes Peak, there's a wealth to do in the area for all ages. And it's a great way to rekindle those family ties. Visit our website to find out all the details about hosting your next family reunion in the Colorado Rocky Mountains!
Dates: Year Round
Cost: $700 or $850 per night, depending on the dates.
Colorado Springs, Colorado
Black Forest B&B Lodge & Cabins (Susie Redden)
Email Website
11170 Black Forest Road, Colorado Springs, CO 80908
Reservations: 800-809-9901
Local: 719-495-4208
End of Summer Get-Away Special - Gas Discount "$50 off a two night stay" Stay 4 nights and get a $100 gas card. Stay 3 nights and get a $50 gas card. Or stay 2 nights and get a $25.00 gas card.
Tank you very much!
Dates: August through December 1
Cost: $25 to $100 gas card
Holden House 1902 Bed & Breakfast Inn (Sallie Clark)

Email Website
1102 West Pikes Peak Avenue, Colorado Springs, CO 80904
Reservations: 888-565-3980 Local: 719-471-3980
Holden House' Filler-Up Fall Special... No need to wait for gas prices to drop! Stay three nights in any of our luxury suites and receive $25 off your stay through October 2008! Valid any days of the week, except on special event/holiday periods. Full amount of stay is required when reserving and is non-refundable once confirmed. Includes our delicious gourmet breakfast, all of our luxury business class amenities and afternoon wine social.
Dates: Through October, 2008
Cost: $25 off three night stay (rates $140-150/night + tax)
Old Town GuestHouse (Shirley & Don Wick)
Email Website

115 S 26th St., Colorado Springs, CO 80904
Reservations: 888 375-4210 Local: 719 632-9194
Fall's calming Wonders - Derive pleasure from the glorious fall views of Pikes Peak and Garden of the Gods, enjoy in-room massages (except Reef & Rose rooms), then relax on your balcony or in your Private Outdoor Hot Tub while nibbling scrumptious truffles and sipping Bubbly (alcoholic or non).
Dates: Sept. 12 thru Oct. 30
Cost: $199 + tax (Room additional)

Our Hearts Inn Old Colorado City (Pat Fejedelem)

Email Website
2215 West Colorado Avenue, Colorado Springs, CO 80904
Reservations: 800-533-7095 Local: 719-473-8684
Colorado Aspens Turn Mountains into a Blaze-
America's Mountain, Pikes Peak, and the Colorado Front Range's Aspens' golden beauty is not to be missed! Come stay long enough to experience the region with a cottage for 2 with full kitchen (may be able to accommodate more, inquire). Special rates to enjoy the Fall Season when reserving a full week (weekly special only). Sunny days with great temperatures and cool nights; activities to fill you days or nights. Come to Colorado's Pikes Peak Region in September!
Dates: September 1 - September 30, 2008
Cost: $700-950 plus tax
Spooky Old Stay - We don't promise ghosts; infact, we hope we don't have any because we live here year round. But you are welcome to assume the worse! Come Enjoy a Spooky Old Stay in our 1895 B&B and/or cottage! Turn of the Century property means many events may have taken place that we just can't imagine; nor do we want to! Stay awhile and do your own investigation; we will provide a safe haven, good food, and even companionship if you get scared! We have plenty of Scary Ghost Story Books to curl up with at midnight just encase you aren't scared enough!!!! Spooky Old Stay Rates are just the tip of the iceberg so get your chains rattling and pick up the phone now! Who knows if you have tommorrow!
Dates: The month of October 2008
Cost: $100 - $165
Manitou Springs
Two Sisters Inn-a bed and breakfast (Sharon Smith/Wendy Goldstein)
Email Website

Ten Otoe Place, Manitou Springs, CO 80829
Reservations: 1-800-2-SIS-INN (274-7466) Local: 719-685-9684
APPETITES, ACTING AND ATHLETICISM at the Two Sisters Inn in Manitou Springs this Halloween Weekend! AAA Time at the Two Sisters Inn in Manitou Springs this Halloween Weekend--Appetites, Acting and Athleticism (October 24 & 25, 2008). Enjoy a two-night stay at the Two Sisters Inn. Sleep tight that night ...maybe... and awake to a seasonal autumnal breakfast with a few tricks, but mostly treats. Cheer on the entrants in the 14th Annual Emma Crawford Coffin Races Saturday afternoon and in the evening if you dare...take a guided walk to "Emma's Favorite Haunts", a Ghostly Walking Tour around Manitou Springs. Sleep well that evening and arise to a Halloween breakfast feast.
Dates: October 24 & 25, 2008
Cost: $280 - $320 plus tax, based on double occupancy
Woodland Park
Pikes Peak Resort (Jenn)
Email Website
943 Painted Rocks Road, Woodland Park, CO 80863
Reservations: 888-687-9777 Local: 719-687-9777
Weekender-Mender! Stay Friday and Saturday Night
starting September 1st, 2008 and continuing through May 14, 2009 and choose from one of the following free gifts:
1. Two Pikes Peak Resort T-Shirts
2. Bottle of Champagne and Keepsake Flutes(cider available upon request)
3. Chocolate Covered Strawberries
4. Vase of fresh flowers
5. Spa soak set
Dates: September 1st, 2008 to May 14th, 2009
Cost: Must stay Friday and Saturday night to redeem free gift. Must be redeemed at time of reservation.
Woodland Inn (Susan Gray)

Email Website
159 Trull Road, Woodland Park, CO 80863
Reservations: 800-226-9565 Local: 719-687-8209
Fall Getaway-during the months of September and October, stay two nights and get the third night free!
Dates: September-October 2008
Cost: $109/night
North West Specials Packages
(Steamboat Springs, Grand Junction, Vail)
Carbondale, Colorado
Gailyn's Cross Country Bed & Breakfast (Glenn Nemhauser & Wayne Horak)

Email Website
211 Euclid Ave., Carbondale CO 81623
Reservations: 970-963-0537
Autumn Special Weekly Rate - When you pay for 6 nights at $90/night, the 7th night is free.
Dates: Sept. 2, 2008 - Nov. 30, 2008
Cost: $540/per room assuming occupancy by 2 adults Special Weekly rate discount. When you stay for 6 nights, the 7th night is free.
South West Special Packages
(Gunnison, Ouray, Durango, Pagosa Springs, Paonia)
Leadville, Colorado
Ice Palace Inn (Sherry Randall)

Email Website
813 Spruce St., Leadville, CO 80461
Reservations: 800-754-2840 Local: 719-486-8272
Train Ride and Stay Special - Description: Looking for a fun reason to come to Leadville? How about a scenic train ride and a romantic picnic lunch? The Ice Palace is pleased to offer our guests a train ride and stay package. Package includes two nights lodging in our best available room, gourmet served breakfast for two each morning, two tickets for a scenic train ride on the Leadville, Colorado & Southern Railroad and a fresh packed picnic lunch for two made with your choice of sandwiches, fresh fruit salad or chips and homemade salsa, homemade cookies and sparkling cider. This package is good for weekdays only through September. Please see our Activities page for the web link to the Leadville, Colorado and Southern railroad. Price is $335.00 plus tax. Based upon double occupancy. Local and state taxes apply. Subject to availability. Some restrictions apply, not valid with any other special, holidays, special events or on previously booked dates.
Dates: Weekdays only through September 2008
Cost: Price is $335.00 plus tax. Based upon double occupancy. Local and state taxes apply. Subject to availability. Some restrictions apply, not valid with any other special, holidays, special events or on previously booked dates.
Be Green and Save some Green - Here's a special just for our guests who live in Colorado! We know its hot down there! Come up to Leadville and cool off. Bring your bikes, hiking shoes, sense of adventure and don't forget the sunscreen! Park your car at the Ice Palace Inn and use your bike or your feet to get around town and save your gas! As a reward we will help pay for your gas to get you home! Two night weekday reservations in June, July, August and September will receive a $25 gas card for one of our local gas stations. Each additional night will receive a $10 card. To be eligible for this special you must mention it at time of reservation. Local and state taxes apply. Subject to availability. Some restrictions apply, not valid with any other special, discount, holidays, special events or on previously booked dates.
Dates: Through September 2008
Cost: Gas Card Discount
Pagosa Springs, Colorado
Elkwood Manor Luxury Bed & Breakfast (Darlene Gonzales)
Email Website


85 Easy Street, Pagosa Springs CO 81147
Reservations: 970-264-9166
Discounts on Mountain Biking Rentals - So you want to do a little mountain biking this summer. Get $10.00 off all mountain bike rentals through "Pagosa Outside Gravity Adventures." if you stay at Elkwood Manor.
Dates: through September 2008
Cost: $25.00 for the entire day (includes discount). No minimum stay required.
Eastern Special Packages
(Limon, Burlington, Trinidad)
Bennett, Colorado
Willow Tree Country Inn (Deborah Toczek)

Email Website
49990 E. 64th Avenue PO Box 160, Bennett, CO 80102-0160
Reservations: 800-257-1241 Local: 303-644-3801
Mystery Dinner Party - "A Taste For Wine And Mystery" The annual wine tasting festival is being held at the Willow Tree Country Inn and a local vineyard owner, is found hidden in the wine cellar. Everyone is a suspect when murder is on the menu. Dress up and play the roles of the devious suspects and you are ready for some drop dead fun! Over night Bed & Breakfast guests will receive $20.00 of the regular room rate.
Dates: Sept. 13, Sept. 27, Oct. 18 and Oct. 31, 2008 at 6:00 P.M.
Cost: $39.95 per person, includes dinner show & tax.
Stratton, Colorado
The Claremont Inn (Harry Jones)


Email Website
800 Claremont Drive, Stratton, CO 80836
Reservations: 888-291-8910 Local: 719-348-5125

Cooking Classes at the Claremont Inn- The Claremont Inn is known for many things, relaxing atmosphere, luxurious guest rooms, numerous ammenities, and of course the food. In October, we are putting on our popular fall Cooking Classes. Make your reservations today for either the 11th or the 25th class. See our website for details

Dates: 10/11/2008 and 10/25/2008
Cost: $85 (single no stay over - Class and Dinner Included) and up to $399 (2 people, 1 Night stay, Breakfast for 2, Dinner For 2 and the Cooking Class), 2 day cooking weekends also available.

Can You Guess "Who-dunnit"? The Claremont Inn will be staging their famous Halloweeen Murder Mystery at the Mansion. You will never have so much fun as you will with this entertaining event. Where else than at the Claremont Inn Murder Mystery Party, do you get to dress up, act up, and get away with murder! Everyone gets into the act in these fun filled evenings. Each guest is a character in the evenings drama and a good time is sure to be had by all. We take care of everything, you only need to review your dossier and create your character which is sent to you weeks prior to the event. Can You Guess "who-Dunnit"? Make your reservation early!

Date: 11/1/2008
Cost: $395 per couple - Includes Dinner, Bed & Breakfast, Cocktail Party, Character Dossier


Congratulations to Wendy Goldstein and Sharon Smith!
Two Sisters Inn Received the 2008 Best of Manitou Springs. Two Sisters Inn - a bed and breakfast has been selected for the 2008 Best of Manitou Springs Award in the Bed & Breakfasts category by the U.S. Local Business Association (USLBA).

The USLBA "Best of Local Business" Award Program recognizes outstanding local businesses throughout the country. Each year, the USLBA identifies companies that they believe have achieved exceptional marketing success in their local community and business category. These are local companies that enhance the positive image of small business through service to their customers and community.
Various sources of information were gathered and analyzed to choose the winners in each category. The 2008 USLBA Award Program focused on quality, not quantity. Winners are determined based on the information gathered both internally by the USLBA and data provided by third parties.
*If you're a BBIC member and have recently been featured in the news, send us an email and let us know. Your inn will be mentioned in the next issue of Colorado Inn-Spirations enewsletter.
Vegetable Frittata
Compliments of the Old Library Inn, Sterling, Colorado
This is an adaptation from many recipes-
Layer in 14 oz. individual baking dishes sprayed well with olive oil.
Sprinkle grated cheese on the bottom of dish-any kind is good, even grated Parmesan.
Layer:
3/4 cup frozen hash browns
1/2 cup sautéed vegetables-any variety, but I like spinach with onions -fresh zucchini, peppers, mushrooms
2 eggs-beat with 1/4 cup half and half
Add 1 tsp. Garlic/dill spice or dash of sherry and cayenne pepper
Top with grated cheese
Directions: Can make the night before and bake for 35 minutes at 350 degrees-let set for 5 minutes.
Garnish with sour cream and fresh sprig of cilantro.
Salsa: Fresh chopped cilantro mixed in one can of Ro-Tel tomatoes w/chili.
BBIC Member Inns -Send us your recipes and you can be featured here!
Meet The Inn Inspectors
BBIC's independent inspectors Carol and Rod Faino, are thorough in scope, covering safety and security, as well as appearance, comfort, and cleanliness. Food preparation, amenities, and administrative items are also evaluated as part of the on-site inspection process.
Carol and Rod are long-time bed and breakfast enthusiasts dating back to their first B&B experience about 25 years ago in Victoria, BC, which happened quite by accident. According to Rod, with no rooms available in local hotels, the Chamber of Commerce suggested they stay in a bed & breakfast. Always up for an adventure, they decided to give it a try. The Faino's had such a delightful experience at the Henderson House B&B, they've have been hooked ever since. During Rod's thirty-year career as a Navy officer/pilot, he and Carol visited B&B's around the world. Twelve years ago, inspired by these experiences and a excellent cook herself, Carol (a former elementary teacher) published the first of four bed and breakfast cookbooks, the Colorado Bed & Breakfast Cookbook (now out of print) which features many of our BBIC member inn recipes. Our BBIC members frequently tell us that they've had many guest referrals through the cookbook publication.
It was during the Faino's attendance at an annual BBIC conference as vendors selling the cookbooks, that they became aware of the association's need for new inn inspectors. Rod and Carol applied for the position and have thoroughly enjoyed a delightful five year relationship with BBIC.
"Touring the state, visiting your unique B&B properties, making new friends and working with such a wonderful group of professionals has been very rewarding for us", says Rod. "It is our pleasure to be a part of the team."
Editors note: BBIC Inspectors, Carol and Rod Faino, became involved with Bed & Breakfast Innkeepers of Colorado by attending the annual Colorado innkeepers conference. You too can attend the BBIC Conference (as a member, non-member, vendor/supplier, aspiring innkeeper, or just a B&B enthusiast) to be held in Estes Park, Colorado, on November 9-10, 2008. Click here for more information.