PRESIDENT'S MESSAGE...from Karen Cullen of 1892 Victoria's Keep Bed & Breakfast


It's amazing how quickly this year has passed away. Here we are just after Mother's Day and Memorial Day is coming! That is the turning point to the busy summer season. Business for 2009 has changed and it seems that guests are not planning as much as they did in years past. You have an opportunity to tailor your specials according to our last minute traveler. Be creative!
The BBIC has been very busy working on fulfilling our marketing grant obligations for the Colorado Tourism Office, with the State Guide, Cookbook and website.
YOU CAN HELP!
We need your local business information in your area to promote dining, attractions, state parks and fourteeners. If you have these items in your area that you would like to promote, please send them to President@bbicadmin.com. We need Name, address, website and phone number. We are working on an interactive map for our guests to help them plan their trip. Support your local businesses and represent your area to help the BBIC be successful.
Save the Date! Our annual conference and business meeting has been scheduled for November 8th and 9th, with our Aspiring Innkeepers Workshop on Sunday at The Golden Hotel in Golden, Colorado. We are working hard to have a variety of vendors and information to help you be successful in your business. Don't forget to participate or if you know of anyone that would like to attend, please share this information.
Volunteers are always needed. Please contact me at
President@bbicadmin.com
if you are interested in helping the BBIC.
MARKETING CORNER...
from Sallie and Welling Clark of Holden House 1902 Bed & Breakfast Inn


STATE GUIDES ARE HERE! The anxiously awaited moment has arrived and we'll be boxing them up to send out this week. Look for yours in the mail soon and if you are in the Pikes Peak area, if you can arrange for a pick up of your guides to save on our postage costs, we would greatly appreciate it. You'll notice a new feature in this year's guide is a Scenic Byways map at the back of the book. This is in conjunction with our State marketing campaign with the Colorado Tourism Office.
Inns Magazine: Information was sent out last week to the members to participate in "advertorial" coverage in the Summer Edition of this beautiful four-color magazine.As a part of our State of Colorado tourism grant and state guide glue-in for the Summer Issue of Inns Magazine by Harworth Publishing, our individual inn members can receive a year's listing in their back page directory as well as editorial coverage on our pages for BBIC. For $350, individual member inns will receive the deluxe listing which entitles each property to a picture or logo, 30 words description, contact information and an editorial spot on our pages. Each property that purchases a deluxe listing will receive a listing in the back inn directory for four full issues. As an option, inns can receive a listing in the magazine basic directory for $100 in four issues.
Cookbook: Is currently being typeset and will be out by June. If you missed out and would still like to participate, email us asap for instructions to squeek in under the wire. Remember, this book will have a long shelf life and is going to be used for promotional purposes as part of our State grant. This project will generate a lot of press opportunities, website traffic as well as sales dollars for the book. Contact me at Marketing@bbicadmin.com immediately if you still want to be included.
Colorado Inn-Spirations Newsletter: We're continuing to distribute this monthly to media and our full email list. We're also including as part of the newsletter, a scenic byways feature which ties into our Colorado Tourism grant nicely. Remember to send me your specials by loading them into our "members only" area of www.InnsofColorado.org website. Email me if you need the login information at Marketing@bbicadmin.com
Website Updates: Thanks to our President, Karen Cullen, for working diligently to assure a refreshed and accurate BBIC website. As part of our branding efforts, the website will coincide nicely with the new state guide. The better we can showcase our membership, the better the opportunity to increase bookings from BBIC. Look for the launch date soon.
Examiner.com: I am writing a regular column for travel and tourism and am making an effort to plug BBIC at the same time at www.examiner.com in the travel section. If you have interesting travel tips and a showcase of travel routes you'd like me to include, please send them to me. I'm only too happy to include as much as possible as it relates to general B&B travel featuring our members or innkeeper tips and information which is helpful for aspiring innkeepers.
Thanks so much for your support. It's a pleasure for Welling and I to serve you.

The Colorado Tourism Office is launching a new FREE Hot Deals program at www.Colorado.com and we are soliciting outstanding travel deals and packages from industry partners to boost statewide travel this summer. Capitalize on this innovative marketing effort to showcase your business and your promotional deals.
Hot Deals will have a distinctive presence at Colorado.com with featured links throughout the website. The program will also be promoted with $250,000 in newspaper print advertising within Colorado and targeted drive markets, in addition to online and radio advertising support, promotional email blasts, and media relations efforts.
For more information on Hot Deals please visit http://ColoradoTourismPartner.com . Each business listing can enter up to three FREE offers. Businesses also have the ability to create "locals only" deals that are specific to in-state residents. Contact Shana Bastemeyer with Weaver Multimedia Group at shana@colorado.com or 303-867-8236 for additional questions.
Log into your www.Colorado.com account and input your deals today so your business can be included. Thank you for your participation.

2009 is a Property Tax Reassessment Year-Are you prepared?
Soon you will receive your 2009 property tax notices, which determine taxes payable in 2010 and 2011. Whether the actual values have increased or not, you should pay attention to this important information.
Thanks to legislation promulgated by BBIC's legislative proactive work, a special taxation rate applies to B&Bs. This requires your tax rate to be separated between your residential and commercial areas. The full law is available at the
State of Colorado's property tax outline
.
A bed and breakfast (B&B) is a unique, mixed-use property that is classified, valued and assessed under specific Colorado statutes. These statutes specify how the actual value of a bed and breakfast property is allocated between residential and commercial property classifications for the applicationof the appropriate assessment rate. Before you pay your bill, check with your local County Tax Assessor to make sure you are being assessed correctly. If you recently opened and were previously a residential home, you can expect an increase in your taxes. However, make sure your local Assessor's office is aware of the special law as it pertains to B&Bs.
In this issue:
Main Article -

Facebook can be a great networking and social tool to garner more attention to your own business and to the Inns of Colorado. I have created an Inns of Colorado business page for the group.

Facebook can be a great networking and social tool to garner more attention to your own business and to the Inns of Colorado. I have created an Inns of Colorado business page for the group.

The idea is that people may join your business page and spread the word through Facebook. For instance, I invited my nephew to the Inns of Colorado business page. My nephew has over 450 friends who may see that he has Inns of Colorado on his page and may ask him about it or just join our page as a fan. This can be a snowball effect. Coca-Cola has over 3 millions fans and so Coca-cola has a real opportunity to communicate with their fans by sending messages, photos, videos, coupons, etc to them. Our individual B & B's may garner more attention with friends, family, and guests who would like to be a fan. I would suggest that you get permission before your guests leave your B & B, whether or not they would like an invitation to your Facebook page. This way you protect the privacy of your guests.

There are several social networking tools out there such as Myspace and Twitter which also may be worth looking into in the future. I chose Facebook as it seems to be more for the professional business. Myspace seems to be more for teenagers and Twitter seems to use a lot of text messaging up to 140 characters to cell phones. Both Myspace and Twitter are also used by companies to help answer and solve problems and may be beneficial to your individual B & B's.

I have chose Facebook to start some of our public relations and have published Inns of Colorado. Inns of Colorado's business page may be another way for our association to communicate with one another and to our fans, guests, and future guests to Colorado.

I know this will take some time in our busy lives, so I propose the idea of managing the Facebook business page myself and will give all board members who want it access to administer the page as well. I will post a note at least once a month to start. The business page is set up just like we have the information on our website innsofcolorado.org, with your main photo, rates, description, address, telephone, fax, website and email address. I have given each individual B & B their own photo album where all your information is stored. Please let me know if you have any corrections and I can change the information.

So Inns of Colorado is complete and as of last count we had 13 fans in 2 days. You can be involved as little or as much as you want. Those who choose to jump into this new venture here are some basic instructions to get started.

1: Create a personal page first.

Facebook does not sell email information. Nor will Facebook give away any of your information unless you want them to. A personal page can be created with as little as your name, email, sex, and birthday. You can hide your birthday to people after you sign up. I have a Yahoo address and Facebook will ask you if you want to alert all your current Yahoo address book emails that you are now on Facebook. It is a quick way to connect with your current friends and family. When I joined I instantly had 40 friends from all over the world and it was nice to just give them a quick update on my life. Your Wall is like a pin up board for those you choose to see. You can post to the Wall and everyone will see the information or you can pick and choose friends to send individual notes, etc. See

www.facebook.com

2: Create a business page.

Once you have created a personal page you can then create a business page for your B & B if you want. Click Hotel/Lodging, Name of your Business, and click that you are an authorized owner or permitted to use this name. It is important to name your business correctly the first time as if you want to change the name of your business then you have to delete the old business page and start over. Your business page should fall under Profile – Info at the bottom or on the bottom left hand side of the page with a light blue F icon for Ads & Pages. For information about pages see Help section:

http://www.facebook.com/help.php?page=175

3: Information & Suggest to Friends – I have added photo albums for each individual room/suite. You can add as many photo albums as you like and however you want. Add your basic information, specials, notes, videos, etc. Once you have your page looking good the Publish it on Facebook. You can then invite your friends to add your business page to their personal page. Go to the Business Page and Click the "More" underneath the main photo on the left hand side. Then click "Suggest to Friends". This will bring up all your friends and you can invite them to join your business page. For some reason the All feature did not work, so I invited about 20 people at a time. Once invited their photo will just be a watermark.

4: Search Function: Searching on Facebook is a bit tricky. The words have to be exact. Your personal page has more search capabilities like job, description, high school, college, etc. The business page is a little harder especially for people with lots of words as their business name. For example the "&" or "and" sign seem to have to be used exactly, which is hard for our B & B business. The main point is that the word of your business spread through friends, family and former guests first. Then it will evolve as time goes by.

5: Inn a Little Deeper:

From my understanding the Business Page will ultimately get more hits/fans down the road. You can also set up a Group page to gain more fans. I just set mine up as a mirror page of my business page. My title is Fans/Guests of Pikes Peak Paradise Bed & Breakfast. This is a sure way to make sure that you get noticed in the Search Function. I see the Group function as more like a softball team that wants to communicate, but it may help get those extra fans to your business. For more on Groups see

http://www.facebook.com/help/search.php?hq=groups&ref=hq

6: Being Successful: The Pages with the freshest, most engaging content stand to gain the most from Facebook —since each track played, video viewed, review written and event attended can generate News Feed stories that propagate through the social medium. Facebook will accelerate the rate at which unknown entities become popular, and it will also fortify the position of those who are already recognized highly among users. Whether large or small, all artists, businesses, and brands have the potential for exponential distribution through this outlet if they can engage users.

Hope you like this new forum. If you have any suggestions on how to make Facebook more enterprising for the Inns of Colorado or for your individual business pages please share with the Group. This is a learning opportunity for our organization and if you have any questions or concerns please let me know.

Ron Pijut of Pikes Peak Paradise

– Public Relations Chair

Take Advantage of our BBIC Online Partners

www.BBOnline.com (10% off your first year advertising)

www.BBDestinations.com (50% discount first year advertising)

www.Colorado-BnB.com (30% discount off first year advertising)

www.Go-Colorado.com (50% discount at annual rate of $200 with a link exchange from your website - regular rate $400/year)

www.CupandPillow.com (Free listings with upgrade discount listings for BBIC members)

NEW BBIC STATE GUIDES ARE HERE-

LOOK FOR YOURS IN THE MAIL SOON!

BBIC members:

This is your newsletter.

If you have articles you

would like to see in the

newsletter please send to

I am shooting for quarlerly newsletters.

I need main articles, snippets about

Health, Nutrition, Gardening, Better Methods to running a

B & B, Recipes of the Month, etc.

Thanks so much!

Ron Pijut of

Pikes Peak Paradise in

Woodland Park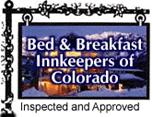 STATE LAW REMINDERS FOR B&BS-
EXEMPTION FROM FOOD SERVICE LICENSING: A bed and breakfast establishment which is the primary residence of the operator and only serves meals to overnight guest is exempt from food service licensing. A bed and breakfast establishment that provides meal services to others than overnight guests including catering services or where the owner does not live on or adjacent to the property must obtain a food service license. A food service licensing is a state license. However, application, inspection and approval are normally administered by the local county health department, if one exists.
BED & BREAKFAST LIQUOR PERMIT: Bed and Breakfast Permit allows complimentary alcohol beverages to be provided only to overnight guests during limited hours for consumption on the premises. This is a state permit but application and approval begins with the local liquor licensing authority.
SALES TAX: All product sales, e.g. souvenirs, are subject to sales tax. Lodging and accommodations are also subject to state and local sales tax. Some counties collect an additional county lodging tax. Refer to the State Department of Revenue regarding - Tax Due on Unit Rentals of Hotels, Motels, Bed-and-Breakfasts, Condominiums & Time Shares.
HEALTH TIPS - 5 Minute Stress Busters

Most psychologists agree that some stress is good, providing you don't get more than you can handle. These exercises can help you handle the stress that's part of your busy and productive life.
Deep Breathing: Inhale deeply, feeling your stomach expand. Hold your breath for a few seconds, then slowly exhale, visualizing tension leaving your body.
Meditation: Close your eyes and mentally follow your breathing. As you exhale, mentally repeat a simple or soothing word with each breath. or visualize a peaceful scene. Do this for at least five minutes or, for more benefit, up to 30 minutes.
Self-Talk: Replace negative mental responses to stress, such as "l can't cope," with positive ones, such as "Everything is going to work out" or "l know I can do it."
Laugh: Just laugh out loud, or do something that will make you laugh such as reading a joke book or watching a comedy on TV.
Progressive Muscle Relaxation: While sitting or Iying in a relaxed position, tense the muscles of your feet as much as you can; then relax them, and notice the difference in feeling. Tense and relax the muscles in your legs, arms, stomach, back, neck and head, one region at a time. When finished, remain in a state of complete relaxation for a few minutes.
Stretching: Sit in a chair with your upper body resting forward on your lap. Slowly roll up, starting at the base of your spine, until your back is straight. Stretch neck muscles by tilting your head to the right and slowly rolling your head down and to the left. Repeat a few times in both directions.
Self-Massage: Sit with your shoulders relaxed. Use your right hand to massage your left shoulder and neck, working your way up to the scalp. Repeat, using the left hand for the right shoulder.
High Fructose Corn Syrup – More Than You Bargained For?... by Marcia Zimmerman, M.Ed., CN
High fructose corn syrup (HFCS), a common ingredient in "junk" foods, has gotten a bad rap for ballooning waistbands, jittery nerves, and bad behavior. , , Now it seems there may be an even greater risk from consuming foods that list HFCS as a first or second ingredient on the label.
Researchers at the Minnesota-based Institute for Agriculture and Trade Policy, found mercury in nearly half of fifty-five brand-name products purchased from grocery shelves. Familiar brands such as Heinz, Quaker, Hunts, Manwich, Hershey's, Smucker's, Kraft, Nutri-Grain, and Yoplait, all had a product that contained mercury. Who would ever guess that mercury could creep into popular foods? Apparently the Food and Drug Administration knew that mercury could lurk in HFCS, but chose to do nothing about it. Renee Dufault, the lead researcher in the new study, found mercury in 9 of 20 samples of HFCS she tested in 2005 while she was still employed at the FDA.
Sources of Mercury
Mercury is ubiquitous in the environment as a by-product of global manufacturing processes. It accumulates in fish and seafood, and toxic levels can pass through the placenta into the unborn. This has led government agencies to warm women of child bearing age about the risks of mercury toxicity during pregnancy and lactation.
The mercury that was found in HFCS likely entered the product during processing. Outdated manufacturing technology employing mercury cells to produce HFCS from corn is still used by some processing plants – mostly outside the United States. Food manufacturers may be unaware they are using tainted HFCS in food production. Unfortunately, there is no government oversight for mercury in foods other than fish.
What Does Mercury Do?
Mercury and other toxic metals produce free radicals, inhibit antioxidant production and utilization, block enzyme functions, and poison sulfur biochemistry. The effects are pronounced, and include heart and auto-immune diseases, allergies, high cholesterol and triglycerides, chemical sensitivity, antibiotic-resistant infections, depression, schizophrenia, multiple sclerosis, leukemia and many others.
Mercury and cadmium both migrate to the kidneys, but only mercury can cross the blood brain barrier. That's why it has such an impact on brain function. Cadmium is more associated with damage to the peripheral nerves.
Are You Toxic?
The term "toxin" refers to a host of agents, from heavy metals such as mercury, lead, arsenic, cadmium, industrial pollutants, infectious agents, electrical pollutants, and ionizing radiation. It is safe to say that most of us are toxic. You can buy home test kits on the Internet but they only indicate recent exposure. Neveretheless, if your test is positive, have your health care provider follow up with blood cell tests. Hair mineral tests are also reliable but depend upon the testing procedures used and proper interpretation.
What To Do?
Be aware of everything you eat, drink, and breathe! You can reduce your daily toxic exposure by using only personal care products that are proven to not contain heavy metals or environmental toxins.
Have your dentist remove old silver amalgams, which are 50 percent mercury. Be sure your dentist follows recommended procedures for removing them. Your contact lens solution, nasal spray, hemorrhoid remedy, prescription drugs, and flu vaccination, may contain mercury as a preservative. Use only "green" household cleaners, fertilizers, or pesticides Check this list. http://www.atsdr.cdc.gov/ercla/07list.html for what to look for on labels.
Nutritionally speaking you will need to eat a healthy diet, flush the toxins out of your system, repair your gut and digestion and rebuild healthy cells. These are the steps to take.
1. Eat a healthy diet mostly from locally grown and organic food. Do not consume foods containing HFCS.
2. Check personal care products you use to make sure they have NO MERCURY
3. Tell your congress person the FDA needs to regulate ALL foods for mercury.
4. Watch out for our youngest citizens by asking your pediatrician to check a newborn for toxic metals. The American Academy of Pediatrics has recommended screening for autism, why not mercury from mom, which has been strongly associated with autism in her children?
5. Detox your body with a good AM and PM detox system. Easy Cleanse™ is an easy AM and PM program. Be patient, it will take a toxic body up to six months to detoxify.
6. Build digestive and immune strength with a green food probiotic product such as Probiotic Defense
7. Reduce gut inflammation and irritation. Take 2 digestive enzyme capsules with every meal.
8. Supply the necessary nutrients to feed your tissues with a good green food based multiple vitamin and minerals.
Thank You to Our
2009 BBIC Board Officers:
President: Karen Cullen & Jay Rohrer, 1892 Victoria's Keep Bed & Breakfast
Vice President: Sandee & Buzz Rogers, Rogers Inn the Pines
Secretary: Melody Ann Hahn, Hahns Haven
Treasurer: Bill & Annette Lyttle, Dove Inn
Legislative Chair: Karin & Roger Steers, Anniversary Inn
Marketing/Acting Publications: Sallie & Welling Clark, Holden House 1902 B&B
Membership: Shirley & Don Wick, Old Town GuestHouse
Public Relations: Ron Pijut, Pikes Peak Paradise
Administrative Assistant: Janet Capela
OPEN Positions: Publications/Nominations/Standards & Bylaws
RECIPE OF THE MONTH... provided by Ron Pijut & Michael Zacharias of Pikes Peak Paradise in Woodland Park
Blackberry Buttermilk Buckwheat Waffles
Ingredients:
1. 1 1/2 cups of whole Buckwheat flour
2. 1 1/2 cups of Buttermilk pancake/waffle mix
3. 2 cups of whole milk
4. 3 eggs
5. 4 tablespoons of olive oil
6. 8 ounces of frozen blackberries or (blueberries) blended with 1 1/2 cups of water.
Directions:
Mix up buckwheat flour, buttermilk mix, milk eggs, and olive oil with a whisk. Blend frozen berries and 1 1/2 cups of water in blender and then add to mix. Blackberry Buttermilk Waffle mix will last up to one week in the refrigerator.
Toppings: Honey, Maple Syrup, Blueberry syrup, Fresh Strawberries, blackberries, blueberries, raspberries, pine nuts and of course Whipped Cream.
Yield or # of servings: 24-28 servings