Attention Aspiring Innkeepers!
REGISTRATION IS OFFICIALLY OPEN FOR
2008 Bed & Breakfast Innkeepers of Colorado Aspiring Innkeeper Day and B&B Conference
Sunday, November 9 through Monday, November 10

Lake Shore Lodge, Estes Park, Colorado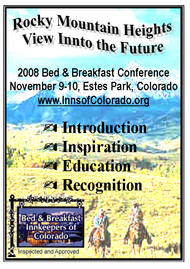 "Rocky Mountain Heights ...
View Innto the Future"
Educational Conference Including Internet Marketing, Media Publicity, Tax Tips and More!

Dynamic Speakers and Colorado Tourism Updates

Welcome and Awards Dinner
BBIC's Annual Report and Announcement of the 2008-2009 Marketing Plan and Strategic Goals
"Golden Muffin Award" Contest with Celebrity Judges
White Elephant Guest' Left-Behind Items Exchange
Estes Park B&B Inn Tour
BBIC Membership Meeting and Elections
Vendor Trade Show and Displays - Networking - Fun, Food & More!
Bed & Breakfast Innkeepers of Colorado Association (BBIC) have announced the 2008 Annual B&B Conference "Rocky Mountain Heights - View Innto the Future". The Conference will take place on Sunday and Monday, November 9-10 in Estes Park, Colorado at the beautiful Lake Shore Lodge on scenic Lake Estes. The plans for this year's conference look to be the most exciting yet. Bed & breakfast innkeepers from all over the state, product vendors, and aspiring innkeepers will meet to partake in workshops, food and fun!
In addition to the innkeeper conference, on Sunday, November 9, aspiring innkeepers will participate in an all-day workshop with seasoned bed and breakfast innkeeper/consultants. Would-be and newly established innkeepers will learn from a variety of topics encompassing the bed and breakfast innkeeping business. Topics will include: Introduction to the B&B Industry, Business Planning, Daily Operations, Marketing Tips, Business and Policies, and Preparing for Success. The Aspiring Innkeepers' seminar will include a take home workbook. Coordinated and hosted by Bed & Breakfast Innkeepers of Colorado founders, Sallie and Welling Clark of Holden House Bed & Breakfast Inn, it will be an entire day packed full of practical business tips and seasoned advice. Aspiring Innkeepers will want to attend both days November 9-10 to reap the rewards of all the information packed and networking opportunities to make your B&B dreams come true!
On Sunday, November 9, BBIC members & guests will be invited to an optional inn-tour of area B&Bs coordinated by the Black Dog Inn and Anniversary Inn in Estes Park. BBIC members will want to arrive early to participate in the Golden Muffin Award contest and attend the Welcome/Awards Dinner hosted by BBIC President Karen Cullen and Jay Rohrer from 1892 Victoria's Keep Bed & Breakfast. Karen and Jay will present special industry awards and report on BBIC activities and announce plans for the future of the organization on the evening of Sunday, November 9. This---all in the gorgeous setting on Lake Estes, Colorado!
On Monday, November 10, the Bed & Breakfast Innkeepers of Colorado (BBIC) Conference gets underway. "We're really excited about this year's conference line-up including the Aspiring Innkeepers Day", said BBIC Vice President and conference coordinator Sandee Rogers. "Our Colorado innkeepers won't want to miss the educational opportunities, meeting, networking, and vendor displays. The conference will feature special presentations including media marketing, promotions and Colorado law updates. It's also a great opportunity to meet and greet fellow innkeepers from all over the state", Rogers added.
The trade show will offer plenty of opportunity to talk to suppliers and vendors for the B&B and hospitality industry. Special speakers will present on issues important to the B&B industry including surviving the IRS and B&B accounting techniques, using creative publicity and earned media opportunites to get your inn noticed, Internet marketing and design, the future of Colorado tourism, and more.
The Bed and Breakfast Innkeepers of Colorado will also host an annual membership business meeting with plenty of networking opportunities. Important issues will be discussed at this year's business meeting, including elections and bylaw changes.
Registration information is now available.
BBIC Conference Information:
Aspiring Innkeeper Information: Sallie Clark 719-471-3980 marketing@bbicadmin.com
Karen Cullen at 719-685-5354 president@bbicadmin.com
Sandee Rogers at 719-488-4355 vicepresident@bbicadmin.com