Inn the News [more]
Inn the Kitchen [more]

Inn Specials [more]
Colorado Scenic Byway Feature [more]
Check out our past issues of Colorado Inn-Spirations!
Subscribe to our Monthly E-newsletter!
Join BBIC on
Check out articles on
Order the 2009 FREE Colorado B&B State Guide!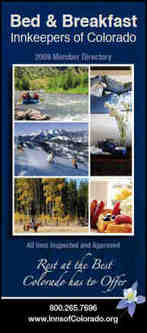 MEET AN AFFILIATE BBIC MEMBER

For additional affiliate membership information,
click here
.

Join us on Sunday-Monday November 8-9 for the 2009 Annual BBIC Conference and Aspiring Innkeepers Day workshop.
This year's theme is "Golden Opportunities for B&B Success" to be held in beautiful Golden, Colorado. Golden is known for the Colorado School of Mines and Coors Brewery in addition to a quaint community. Be sure to mark your calendars now. Are you a B&B hospitality vendor? We have opportunities for sponsorships now! Check back soon for details...


Volume 2 Issue 5 2009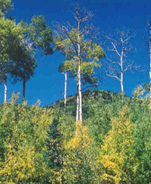 Fall is just around the corner and nothing is more spectacular than a glimpse of Colorado Aspens, touched with gold, shimmering in the warm, crisp and fresh Colorado air. Mid-September is the best time to experience the fall colors at higher altitudes with lower elevations seeing their peak through mid-October. Importantly, Colorado B&Bs are ready to provide exceptional hospitality along with unsurpassed scenery. Inside this issue you'll find fall specials sure to tempt your travels throughout our great state. Traveling on business? Your business trip can also be pleasurable where you'll find member inns ready to provide the latest in WiFi, computers, modern amenities and even a few with meeting room accommodations. Be sure to check out our website at www.InnsofColorado.org to print out our 2009 directory, complete with business amenities at dozens of Colorado B&Bs. No matter your interests, your Bed & Breakfast Innkeepers of Colorado innkeeper-hosts are always pleased to help you find your perfect activity. Whether you prefer an historic Victorian, a cozy cottage, a stately castle, rustic log home or a modern mansion, our Bed & Breakfast Innkeepers of Colorado (BBIC) member inns are ready to serve.
Whether traveling for business or pleasure, a Colorado B&B is waiting for you.
This month, check out our special Scenic Byway feature in Northwest Colorado along Trail Ridge Road and planning your stay in Estes Park or nearby Boulder...
Our distinct Colorado B&Bs are ready to welcome you with a genuine smile, personalized service, clean and comfortable accommodations and a delicious homecooked breakfast. Savor special delights, prepared by loving innkeepers. This month, try Avenue Hotel's award winning Cherry Raspberry Pie It's the perfect accompaniment to your breakfast brunch and so delicious that you'll want to travel to one of our Bed & Breakfast Innkeepers of Colorado member B&Bs just to personally sample our breakfasts inn-style!
Front Range Special Packages
(Boulder, Central City, Denver, Estes Park, Georgetown, Golden)
Central City, Colorado
Email
210 Hooper Street, Central City, CO 80427 Reservations: 866 582-5828 Local: 303 582-5828
Saddle Up and See the Gold!
Ride the Rockies by horseback and view the Peaks of the Continental Divide. Enjoy the autumn aspen and its entire magnificent golden splendor. Unwind with a rejuvenating healing massage. Visit Historic Main Street Central in Central City and the "Richest Square Mile on Earth". Come and stay two nights at the Hooper Homestead Guest Quarters, enjoy a deluxe continental breakfast, one hour of horseback riding, 2-30 minute massages or 1-60 minute and a soak in the hot tub afterwards under the starlight.
Dates: September 1st-30th 2009
Cost: Mid-Week $425/Weekends $475 (based on double occupancy; tax not included)
Estes Park, Colorado
Black Dog Inn
(Carlos and Sheree Albuquerque)

Email
650 S. Saint Vrain Avenue - PO Box 4075, Estes Park 80517 Reservations: 866-786-0374 970-586-0374
Babymoon Package -
Before your bundle of joy arrives, pamper yourselves with a romantic getaway at the Black Dog Inn.
2 night stay Babymoon gift basket- filled with fun items for
baby, mom and dad. $449.00 (tax not included) Optional 1 hour prenatal in room massage by a certified massage therapist is also available for $120.00 extra (tax not included)
Dates:
through September 30
Cost:
$539.00 tax not included
South Central Special Packages

(Colorado Springs, Breckenridge, Salida, South Fork, Alamosa)
Colorado Springs, Colorado
Holden House 1902 Bed & Breakfast Inn
(Sallie Clark)
Email
1102 West Pikes Peak Avenue, Colorado Springs, CO
80904 Reservations: 888-565-3980 719-471-3980
Fall back Colorado special!
Stay 3 nights and get the 3rd night 50% off or stay 4 nights and get the 4th night free any days of the week. Booking last minute (within 24 hours)? Mention our 24 for 24 special and receive $24 per night off your room rate.
Dates: through October 2009
Cost: Paddle and Saddle: $198/couple, Raft and Rails: (Coach car $188/couple), (Dome car $278/couple), Wine Express: $260-310/couple (B&B Lodging additional charge)
Old Town GuestHouse
(Shirley and Don Wick)
Email
115 S. 26th St., Colorado Springs, CO 80904
Reservations: 1-888-375-4210 1-719-632-9194
Rejuvenation Special
15 minute chair massage, between 8:30 &11 am. Ask when making reservation. Free
The St. Mary's Inn
(Conchita Nolet)
Email
530 North Nevada Avenue, Colorado Springs, CO 80903-1106
Reservations:719-540-2222
Top of the Best - celebration of winning the Top of the Best of The Rockies 2008-2009 Award by BedandBreakfast.com, we are offering our 2 bedroom Apartment at the Government Employees and Contractor (per diem) rate of $88/person. Breakfast will be extra $10 pp. The accommodation will be a large bedroom with queen size 4 poster bed, a large office with desk, living room, fully equiped and functional kitchen and a bathroom with tub/shower. Separate private entry. Extended stays welcome!
Dates: Visit St. Mary's website for availablity
Cost: $88 per person single occupancy
Manitou Springs, Colorado
Blue Skies Inn
(Sally Thurston)
Email
402 Manitou Ave., Manitou Springs, CO 80829
Reservations: 800 398-7949 Local: 719 685-3899
Short and Sweet Wedding -
Wrapped as a pretty wedding package,
imagine a marriage that is stress-free and beautiful. As an innkeeper who is also an artist and gardener, Sally uses her skills to create beautiful weddings. From arranging the floral bouquet to photography to seamlessly co-ordinating the wedding, every detail is treated as Art. That the wedding is gentle on the Planet and economical are just lovely bonuses. Located at the base of Pikes Peak, Blue Skies Inn hosts weddings any day of the year.
Dates: Year round
Cost: $1695 plus two nights' stay at the inn
Dates: through September 30, 2009, excluding holiday weeks
North West Specials Packages
(Steamboat Springs, Grand Junction, Vail)
Check back next month for New Specials...
South West Special Packages
(Antonito, Gunnison, Ouray, Durango, Pagosa Springs, Paonia)
Antonito
River's Inn & Swiss Cottage B&B
(Ursula Armijo-Knobel)
Email
317 River Street, P.O. Box 457, Antonito 81120
Reservations:719-376-6029
Readings (Automatic Writing) from May through November
- In downtown Antonito, Colorado, very well known by train buffs from all over the world, coming to ride the Cumbres & Toltec train, by fishermen, artists, gourmets (5-course dinners upon request), now offers on-site readings. Call Ursula for more information. Reduced rates for readings apply when you stay 2 nights or longer.
Dates: through November 15th
Cost: Readings: $ 200 instead of $300 with 2 nights stay
Paonia
Bross Hotel
(Loree Rezaie)
Email
312 Onarga Avenue, Paonia, CO 81428
Reservations:970-527-6776 Summer Deals 2009 - Thrifty Nifty Vacation, Be thrifty. Vacation mid-week (Sunday through Thursday) and claim a 10% discount on your hotel stay. Play in the great outdoors: hike, bike, fish, swim, climb, you-name-it. Or, just enjoy the beauty that is the Western Slope, including the Black Canyon of the Gunnison National Park, the Colorado National Monument, Blue Mesa Reservoir, the West Elk Scenic Byway, etc. Get a 10% discount on a reservation for two or more nights, but you must tell us you're doing the Thrifty Nifty Vacation when you make your reservation.
Dates: through October
Cost:
10% off your mid-week stay
Mountain Harvest Festival Dates: Sept. 25-27, 2009 Cost: $300 double occupancy, $230 single occupancy
Eastern Special Packages
(Limon, Burlington, Trinidad, Pueblo, Sterling, Hugo)
Stratton
Email
800 Claremont Dr. Stratton, CO 80836
Reservations: 888-291-8910 Romance Stimulus Package - A Romantic Mini-Vacation in Colorado - 2 Nights Luxurious Accommodatins for two, 2 Wine Cellar dinners for two, 2 gourmet breakfasts for two, Too Perfect!
Dates: Book online now through September 30 2009 (this package can also be booked by phone).
Cost: Special price of $474 (dbl occupancy 2 consecutive nights in any room)

Congratulations to the Silver Queen Bed & Breakfast in historic Georgetown, Colorado! First an aspiring innkeeper member of BBIC, now Joyce Jamele has officially joined BBIC as an inn member and opened her doors to guests after 3 years of remodeling, new construction and landscaping. Jamele states, "Actually, people have been enjoying this beautiful Victorian home since New Years Eve (my very first guests). I've been very busy this Spring and Summer, and have thoroughly enjoyed all the interesting people that have stayed here. Check out the new website with great photos and lots of information about the B&B as well as the surrounding area. There's also a BLOG, so check that out, too, and add your name if you would like to keep up with events here in Georgetown. You can also send me an email through the website or directly to the address above. I would love to hear from you and, of course, invite you to come to Colorado and visit the Silver Queen".
BBIC receives google alert kudo's for our TravelExaminer.com postings. Read more here...
*HAVE YOU OR YOUR BBIC MEMBER INN BEEN "INN THE NEWS OR RECEIVED A RECENT AWARD"? If you're a BBIC member and have recently been featured, send us an Email and let us know. Your inn will be mentioned in the next issue of Colorado Inn-Spirations enewsletter.
Coming soon -
BBIC's new cookbook Colorado Culinary Inn-Spirations!
BBIC Member Inns - Send us your recipes and you can be featured here!

Congratulations! to the Avenue Hotel in Manitou Springs, CO for winning a recent pie baking contest Enjoy innkeeper Gwenn David's Cherry Raspberry pie recipe.
Cherry Raspberry Filling
3 1/2 cups pitted pie cherries
2 pints raspberries
1 1/4 cup granulated fructose
3 tablespoons corn starch
Cook fruit down until thickened. Pour into prepared pie crust. Top pie with crust, using a crisscross design. Bake at 425 degrees for 35 - 40 minutes until golden brown.
Pie Crust
2 cups flour
1 teaspoon salt
2/3 cup shortening
6 tablespoons cold water.
Sift flour and salt. Using a pastry blender cut shortening into flour and salt until mixture resembles coarse corn meal. Sprinkle water, 1 tablespoon at a time, over small portion of the mixture, with fork press the flour particles together and sprinkle remaining water over dry portion; use only enough water to hold pastry todether. Press dough together and chill. Bear in mind the less the dough is handled the more tender and flaky the pastry will be. Roll out dough and place in pie tin ready for filling. Makes 2-9inch pastry shells.
Scenic Byway Feature-Top of the Rockies (courtesy of Scenic Byways)
With altitudes rarely falling below 9,000 feet, Top of the Rockies is worthy of its name. Travelers cross the 10,424-foot Tennessee Pass en route to the booming mining town of Leadville, the highest incorporated community in the U.S. This historic town is the ideal resting place for mining buffs and outdoor enthusiasts alike. Relive Leadville's flagrant history by visiting the abandoned mines where Tabor, Guggenheim, and May made their millions. Venture into the desolate Valley of the Ghosts, where fire ravaged three thriving Victorian towns. More physically adventurous travelers can choose from four-wheeling, mountain biking, horseback riding, or hiking on Colorado's highest mountains, Mt. Elbert and Mt. Massive, both reaching over 14,400 feet. The national forests surrounding Leadville is a mecca for other outdoor activities such as snowmobiling, snowshoeing, fishing, golf, and more.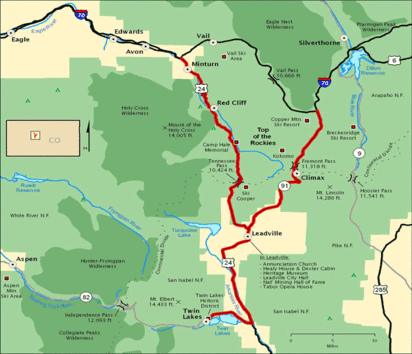 Leadville's history is spiced with stories of real people who made, and lost, fortunes. Andrew Carnegie, Susan B. Anthony, Doc Holliday, and the "Unsinkable" Molly Brown are just a few of the characters who crowd its past. With 70 acres of Landmark District brimming with Victorian charm and architecture, it's no wonder Leadville is one of the ten Prettiest Painted Places in America. Admire Colorado's heritage at the National Mining Hall of Fame, or brave the nearby ghost towns of Lake County.
As you explore this 75-mile route of towering peaks and broad valleys, keep your eyes peeled. Sharp eyes may spot robust wildlife, like the agile Big Horn Sheep, among the rocks. Slashes of gold, red, blue, and white wildflowers adorn the snowy mountainside each spring. Nestled at the foot of Mt. Elbert, the Twin Lakes area bursts with picture-perfect views of soaring peaks and lavish foliage around the state's largest glaciated lake. Natural beauty and rich history are showcased perfectly in this living landscape.
Nearby BBIC member inns include
Leadville's
McGinnis Cottage B&B Inn,
Breckenridge's
Abbett Placer Inn Bed & Breakfast, Allaire Timbers Inn and Fireside Inn,
Dillon's
Western Skies Mountain B&B, Nathrop's Hahns Haven Bed & Breakfast and Streamside Bed & Breakfast,
Salida's
Century House Cottages, Colorado Crossroads B&B, Gazebo Country Inn B&B, San Isabel Bed & Breakfast, The Thomas House B&B and Tudor Rose B&B and Chalets, or
Frisco's
Frisco Lodge. For details on
Colorado and National Scenic Byways
, visit
www.ColoradoScenicByways.com